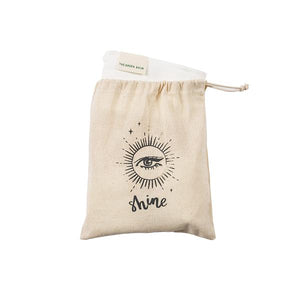 A trio of face cloths in an organic cotton drawstring bag, with an aim to get everyone hot cloth cleansing and moving away from using disposable wipes.
These eco-friendly bamboo face cloths are luxuriously soft, and an essential part of your hot cloth cleansing routine. The texture of the fabric clings to the face, wiping away makeup, grime and impurities effortlessly, leaving the skin feeling hydrated and clean. Bamboo fibre is naturally anti-bacterial, and a much more sustainable choice than other materials. The plants grow at an astonishing rate and can be harvested multiple times without destroying the crop. 
Use the cloths to hot cloth cleanse as shown here; these extra cloths are a must! Once used they can be washed on a regular machine cycle.
Ideal to balance oily, acne skin as well as dry, sensitive skin types. Shine bright for the rest of the day.
Meet the maker:
MOA began when founder Charlie started on a quest for healthy living following the birth of her daughter, who suffered badly with eczema. 
On the quest for natural and organic ingredients she was drawn towards the ancient folklore of herbalism and introduced to the humble yarrow, a favourite amongst many herbalists, partly due to its array of powerful properties. With a background in art and design Charlie creates all the hand drawn illustrations, believing that the entire packaging of a finished product is as important as what's inside.
The MOA products combine yarrow with other herbal extracts and botanical oils to help to soothe, cleanse, moisturise, tone and energise. The therapeutic scents and feel on the skin have a nurturing effect on mind, body and spirit.
Charlie says: "The yarrow is grown on an organic farm in Somerset; we sometimes help out with sowing the tiny seeds by hand, or reaping the harvest in the summer. As a small team we like to be part of every aspect from start to finish, ensuring that each potion has been created with love."
Made in England, by the team at MOA.